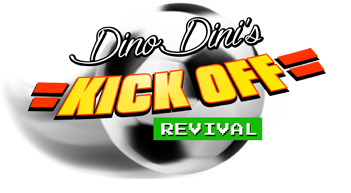 About the Kick Off series:
The Kick Off franchise is a series of football simulation computer games, first released in 1989. Kick Off, the first game of the series, was designed and programmed by Dino Dini and released by Anco for the Amiga and the Atari ST in 1989. The game reached the top of the charts and won several awards.
Player Manager was a spinoff of Kick Off developed by Dini and released in 1990. The game was the first game to combine a management environment (including tactics, league play, transfers, and detailed player attributes) with a football game engine (based on Kick Off). Dini went on to develop Kick Off 2 which was released for the 1990 world cup and introduced a number of new features including the innovative 'aftertouch' which allowed the player to swerve the ball during normal play.
Dino Dini left Anco and signed with Virgin Games in 1992. GOAL! was released in 1993 as Dini's sequel to Kick Off 2. GOAL! was also released on the Sega Megadrive/Genesis as "Dino Dini's Soccer". While Anco retained the Kick Off and Player Manager names and released several further editions, these had no connection with Dini.
Annually the Kick Off 2 world championships, based on the Dini's original Amiga game, take place where dedicated players from all over the world compete for the world title, this year to take place in Dublin on the 7th/8th November 2015.
About Dino Dini:
Starting out with an Acorn System 1 in 1979, Dini taught himself programming and began making computer games. He has developed games ever since for many different platforms. His first published games were through a small company called Timedata, starting with the "Acorn Atom Magic Book" in 1980. He started work on Kick Off in 1988. After the release of Dino Dini's Soccer he worked in the US for various companies before returning to the UK in 2001. During the next 5 years he worked with Trecision in Italy and DC Studios in Canada on two separate football game projects, which failed to reach market before the supporting companies ran into financial difficulties during a turbulent period in the industry. From 2007 to 2015 he worked as a teacher at a vocational university in the Netherlands teaching video game programming. Now he works full time on Dino Dini's Kick Off Revival with the support of Sony.
About The Digital Lounge
The Digital Lounge is the sole publisher of Another World - 20th Anniversary Edition. "Publisher 3.0": we build a strong relationship with the game creators to support them with marketing, communication and sales operations worldwide; it is in our DNA. We believe inspiration, business and fun go hand in hand. Our passion for games has no limit, and we make it our mission to connect creators and players. To learn more, please visit: www.thedigitalounge.com
"PlayStation" is a registered trademark or a trademark of Sony Computer Entertainment Inc.. "PS4" and "PS Vita" is a trademark of the same company. All other trademarks are property of their respective owners.